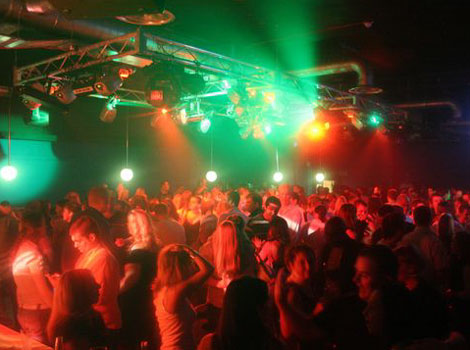 Clubbing is a by-product of being an upper middle class Indian citizen. Having lived in
Delhi
, Mumbai and abroad, and generally having travelled a fair bit, I've invariably ended up checking out the "hottest" (mostly because the place is like a sardine can) clubs in most cities I have been in.
That said, I do not enjoy clubbing. I'll choose a play or a museum visit over clubbing faster than Shah Rukh raises both his hands in a movie. One, I dance like a participant in the Special Olympics. Two, being 6'3 means you invariably end up knocking out a couple of guys and girls on the dance floor thanks to inadvertent elbows to their head. Third, If I'm spending 5 grand to enter a place that is completely dark and going to give me a headache, the least I expect is getting my dick sucked. That, unfortunately, is not a guarantee. Fourth, I don't like people who make less money giving me attitude. Bouncers, unfortunately, like Indians working in European embassies, fit this bill rather nicely. And finally, I'm a conversation person. Clubbing does not involve conversations. Sometimes while waiting for my drink at the bar I hung around a little longer just to listen to the kind of things people would talk about. I always walked out with my IQ having dropped 30 points.
This brings me to the point of this post – the kind of people you will meet at
Delhi
clubs. Now there are many posts on dating type websites that talk in broad terms about people you should avoid at clubs. I found those largely rubbish for people who want to go clubbing in
India
, more specifically,
Delhi
. Also, it is an extension of a previous post – though more detailed.
The MTV Splitsvilla rejects:
This forms a majority of the crowd in most places. Men with tight formal t-shirts, jeans, pointy leather shoes and more cologne than a hooker's ass after a night of sordid abuse. In short, the face of confident young
India
that we like showing the world. Similarly, the women – mostly Chanels with visible shoulders and a tattoo thrown around for added appeal. Most of them look rather nice. Then the lights come on. Then it feels like a scene from Prison Break. Pictures are taken to be uploaded on Facebook the next day - followed by comments such as "LOLZ U WUZZ SO SMASHED". It is because of people like them that the word "Muah" has not died the horrible death it deserves.
The Jat Boyz:
The Jat Boyz are products of Haryana whose land has been acquired by the DLF group for a princely sum which has allowed them to buy the "latesht" Prado or Pajero. Though most Jat Boyz suffer from an inferiority complex and say stuff like "Degi kya?" to women behind their back, sometimes they get into clubs in groups thanks to their friend the bouncer who is a Tau ka bhanja. The Jat Boy is most likely to fit into the gymming, tight T shirt category, but that is not a giveaway at the club. Their giveaway is the religious paraphernalia that will don their thick neck and mingle with their pubis resembling chest hair. Making eye contact (if you are a man) means getting your ass kicked when you step out the club and (if you are a woman) results in potential rape and groping charges.
The Overenthusiastic Surdie:
There are two types of surdies in clubs. Both are rich and come from well-heeled families. However, one is self-loathing and converts his turban entrenched hair into a ponytail at the back in order to improve his chances of getting laid. The regular Surdie at the club, despite the money and (relative) education, is still an exotic commodity (unless he comes in a group or with other Punjabis) The latter will ONLY be spotted during Bollywood nights or when a Punjabi MC/RDB come visiting. Nights with trance/house/hip-hop - you'll have a better chance of spotting a Tiger at Jim Corbett. Also, no matter what the music, the Surdie is only equipped with Bhangra Version 3.4 which will be executed like a windows batch file. You best get out of the way, especially when the boasting about Surdies having high capacity to consume alcohol comes crashing down with the 2
nd
Vodka shot.
Mid-life crisis man:
Mid-life crisis man is the executive in his late 30s who is out to flatter some women with his investment banking paycheque. He should clearly not be there, but a bad marriage or "client outings" provide the perfect opportunity to re-live his youth and still feel like the world gives a shit about his existence. There are desi mid-life crisis men as well, who have similar money and pretexts for being there, except they are a little more unpolished. Giveaways include a fake accent that arises every time a drink is ordered and a thin gold chain. Also likely to have pointy leather shoes (which he bought after seeing all the hot young studs wearing them with tight jeans). True story btw – one dude whipped out his Lamborghini in front of a club, got out and shouted "Who wannntzzz to go faar a riiiddeee!!" He looked like Danny Devito.
The Film producer:
The film producer is another type of mid-life crisis man, whose job it is to hunt down white women at clubs and offer them movie roles by calling them "beautiful". Most likely to wear a safari suit and be balding. If you're Indian and wear 3 kilos of make-up on your face, you have a pretty good shot too. Tollywood always has openings from what I hear.
The Barely Legal chic:
These girls make it dangerous for everyone to be in a club. They're 16 but have more glitter on their face and costume than the Twilight vampires. Again, normally spotted in groups with boys attempting to grow stubble and pretending to be 3 inches taller than they are by spiking their hair with bodily fluids. Easy giveaways are the Keira Knightley like chest and the Action Aid
India
postcard like figure. And no, I cannot help you with your Social Studies exam.
The Expat
: The expat at clubs will normally either be with other expats (who are fine as long as they are not French and complaining about everything here is so shitty) or with Indian friends s/he made during his/her stay in
India
. I will not go into the groping contest that seems to ensue every time they step on the dance floor, but what is peculiar is the Indian friends who tag along with them at most clubs. They are, without fail, the ugliest and dumbest bunch of Indians you can find in our glorious box of Wheat flakes. I mean I know as an outsider you are always looking for a bargain, but just because you save 5 rupees taking one auto does not mean you bring the driver along to the club.
The Amazed Tourist:
Mid 30s couple and amazed that our poor little country has a nightclub. And dancing. And alcohol. And women showing bra-straps. And food. And you don't need to pay to use the restroom. And it has toilet paper.
Manu Sharma:
Enough said.
P.S. My funniest "clubbing" story is from back in the early 2000s when I asked an acquaintance about the best clubs in
Calcutta
before an impending visit. The answer was "Mohan Bagan" and "
East Bengal
".
What are yours? And feel free to add to the list. We can then forward it to Lonely Planet.